Chinese bangs hairstyles are one of the most popular hairstyles all over the world. It is unique and trendy in its own way. If you are tired of trying the same hairstyles again and again then you must go for something fresh. Yes, I am talking about Chinese bangs.
Besides, the best part about these hairstyles is that it is not limited to any hair cuts you have. These classic hairstyles are very beautiful and attractive. At the same time, these are vibrant and suits most of the outfits that you have in your wardrobe. 
9 Best Chinese Bangs Hairstyles That You Will Love
Chinese bangs are used to highlight blunt-cut bangs that fall right above the eyes. These help to frame the face and are normally straight. On the other hand, the best benefit of picking this hairstyle is that it suits all face cuts. 
Now, let's discuss the top 9 best Chinese bangs hairstyles that you will love this summer.
1. Straight Hair With Bangs 
A straight hair with bangs looks very professional and voted as the best hairstyle for an office look. This Chinese bang hairstyle is suitable for oval and heart-shaped faces. 
2. Chinese Bang Hairstyle With Ponytail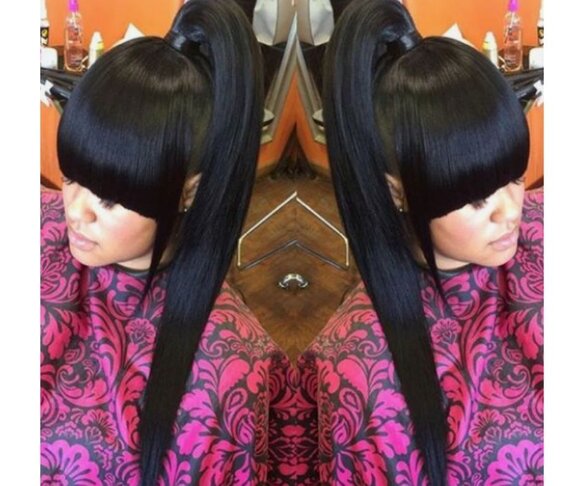 Another best hairstyle is Chinese Bang with a ponytail (both high and low), and this is one of the most preferred hairstyles of Chinese women. Moreover. This hairstyle is suitable for all face cuts and you can also use yummy extensions with this hairstyle. 
3. Chinese Bangs With Curly Hair
Chinese bangs with curly hair also seem to be very popular and trendy nowadays. Most woman has curly hair so you can give it a new style to it in your own way. Here, I will suggest you go for this trendy look for the next occasion but consider hair texturizer too. 
4. Chinese Bangs With Short Haircut
Chinese Bangs with short haircut is another trendy look for your next wedding party. Your cute haircut will highlight your appearance at the party and be prepared to receive more compliments for this look!
5. Chinese Bangs With Cobra Bun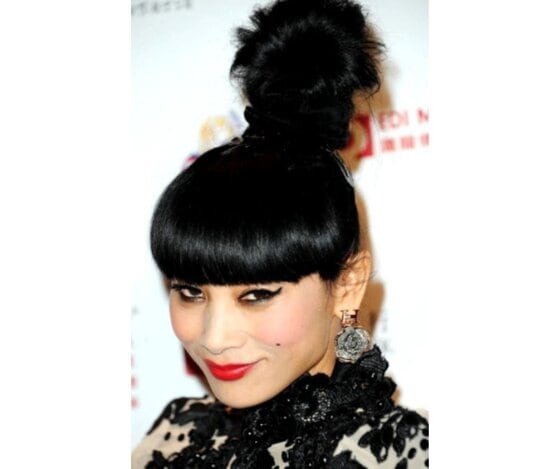 Chinese bangs with cobra bun were initially showcased in Chinese warrior movies and since then, it made a revolution among stylists all over the globe. Hence, this is new as well as trendy and you must go for it!
6. Chinese Bangs With Hammer Bun

One of the best Chinese bangs hairstyles is the hammer bun and this is well-known because this is an ancient Chinese hairstyle. This bun is attractive out of all bun hairstyles that you will come across nowadays.
7. Chinese Bangs With Braids
Braids are one of the most loved hairstyles mostly among teenagers. These highlights classy look and also the favorite one of most celebrities that you will come to know in the long run.
8. Chinese Bang Bob Hairstyle
You can add value to the Chinese bang bob hairstyle with a bandana headband and wear your perfect short skirt to catch others attention towards yourself. Besides, you might have heard the name of the bob hairstyle many times, so it's time to try one!
9. Chinese Bang With Braided Bun
Chinese bangs hairstyles with braided bun is my favorite out of all hairstyles described above. This hairstyle with looks perfect with your church outfits you must go for it without a second thought!
Conclusion
A hairstyle is incomplete without bangs! The above listed are the Chinese bangs hairstyles that you will love for sure and you can also try ark hairstyles that will highlight you in the glamor industry. Moreover, these hairstyles are meant for both long and short haircuts so that you can style them conveniently. 
Read Also: