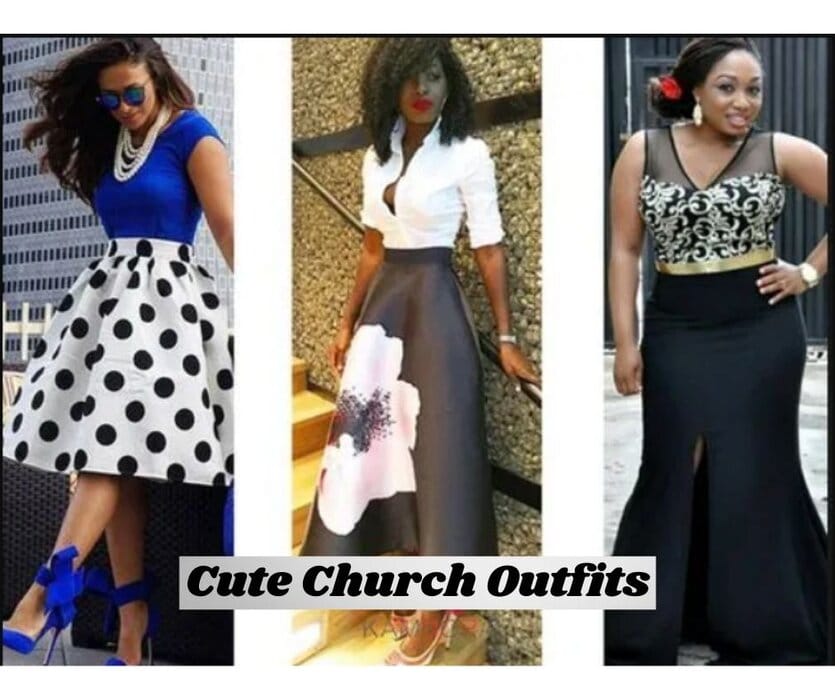 A church is a holy place where you visit and pray to god and the outfits for the church should not bother you. But if in case your appearance is bothering you then I have brought the best church outfits for everyone that will hold your attention for a while!
You can't look stylish and natural at the same time. It is completely dependent upon you how you will express the real you in front of others. Different types of short skirts too can make you look humble and trendy. 
Wearing a perfect outfit with good makeup is all you need to enhance your style and personality. But no need to wear bulky makeup because the church is not the place to show your makeup. In fact, it's the place to show your respect and love towards the elder.
Cute Church Outfits Ideas For Everyone
If you are going to church on a regular basis then you are expected to dress in a decent manner. Moreover, you can also wear jeans and short skirts in the church if you want to. But at least go for knee-length shorts if you are planning to wear short outfits in church. 
Now, let's not make you wait any further, here are the cute church outfits for everyone.
1. Short Skirts in Church
Yes, as already described above that you can wear short skirts in church. A pencil skirt can look classy and standard to go to the church. If you are wearing this then you must keep yourself look natural and simple. 
You can also open up your hair and wear a high heel while wearing short skirts that will highlight your appearance in church.
2. Casual Outfits:
Your casual look can be one of the best church outfits ideas for men and women. Simplicity is what people prefer while visiting the church and also it gives a standard look.
For men, you can wear jeans and a t-shirt and for women, you can wear a short skirt and top. This will look convenient and comfortable throughout the wear. Moreover, you can also consider wearing sweatpants because it is best for casual styling. 
3. Tea Dresses For Church
Tea dresses are the most loved outfits for women and they really love wearing them. This can be the best dress for every Sunday when you are going to the church.  
It will highlight your appearance before others and make you feel good. This dress can be the most comfortable outfit that you can wear on any occasion.
4. Denim Jacket For Church
Denim Jacket not only looks perfect but standard with every outfit that you wear. The jacket will complete your look and it is regarded as one of the best church outfit ideas for everyone.
If you are wearing a top with jeans then you can wear a denim jacket and it will showcase your personality. 
5. Floral Maxi For Church
Now, this is another cute church outfit for women and will give you a decent look. Your wardrobe is demanding new kinds of outfits i.e., floral outfits and you must have it at any cost. 
Floral maxi for church looks decent as well as stylish and is sure going to capture all your attention. This outfit is made especially for winter and fall.
6. Long Skirts For Church
One of the trendy outfit ideas for the church is long skirts. Yes, because there are women who are not comfortable wearing short skirts and for them, high low skirt outfits and long skirts can be the best option.
On the other hand, you can wear this skirt on occasions such as dates, outings, parties, birthdays, etc. A long skirt can also be regarded as funky college attire for girls. 
You May Also Like: Different Types Of Joggers
7. Jumpsuit
Jumpsuits can be regarded as the best church dress because they will give you a decent look throughout the wear. You can pair your jumpsuit with a denim jacket and it will give you a cool look.
You can also try different types of sandals with this outfit and see how it looks. So, if you are looking for a church outfit then you must try a jumpsuit.
The Bottom Line
You must only wear those outfits in which you are comfortable. The above cute church outfits are the best options for everyone. This Christmas, try something unique and surprise your loved ones with your appearance. 
Do you want to add some more church outfits to the list above? Drop a comment below.
Read Also: