What can be more amazing than wearing your favorite crew socks? There are varieties of socks available online as well as in offline markets. These socks are well-known among teenagers who wish to try all types of socks.
Crew sock's length is generally between six to eight inches. Therefore, the purpose of these socks is to provide you warmness during winters. They provide us protection and prevent our feet from blisters. These socks can be worn with any footwear and outfit you wish to.
Well, In this article I am going to tell you all the different kinds of crew socks that are available,
Top 10 Different Types of Crew Socks:
1. Graduated Compression Crew Length Socks:
As it provides graduated compression, it is perfect for improving blood flow. In addition, it includes a soft paddle sole and a flat nonirritating sea. You can even wear these socks with your school or college uniform if you are a student. In addition, it can also be worn for office purposes.
Graduated Compression socks are designed especially for men. These socks are very easy and comfortable to wear throughout the day.
2. Paddle Board Crew Socks:
These socks are named as 'Paddleboard Crew' because it has paddleboard seascape that has a touch of an island. It will give you a feel that you are paddling around the ocean.
These socks are soft and convenient to wear with any type of footwear you prefer. It is made up of cotton blend. On the other hand, it will give you a funky and dramatic look.
3. Airflow Diabetic Crew Socks:
Airflow diabetic crew length socks is made up of cotton (about 80 to 88%) and the rest with nylon.
These socks are perfect for those who have diabetic feet as it has non-binding support. It is perfect for the summer season to keep your feet cool and relax.
4. RAD Crew Socks:
These types of socks prevent tired as well as heavy feet. RAD refers to Canadian fashion designer, designed especially for men.
It is made up of cotton blend in black solid RAD shade. These socks provide extreme comfort to feet while wearing throughout the day.
5. Mini Crew:
The mini crew length socks are very popular among Men and Women. Men wear these socks with trending sneakers and women wear with heels, flats, boots, and sandals. It will give you an attractive look if you wear these socks with boots. 
The length of the mini crew lies just above the ankle bone. On the other hand, they are also known as ankle socks.
6. Embroidered Crew Socks:   
Embroidered Crew length Socks are made up of 80 percentage Cotton, and the rest with Elastane and Polyester, and are available in many varieties.
These socks are embroidered with a puppy design to give you a cool and funky style. So, you can even gift these socks to those friends who are funky and loves to wear creative kinds of stuff.
7. Dachshund In Sweater 3/4 Crew Sock:
These crew length socks are also called sweater socks that are accessorized in style, and the size is about 3/4th crew length.
Daschund socks are made up of 75 percent of Cotton, 15 percent Polyester and the rest with Nylon and Elastane. These socks are made especially for winter to provide your feet extra warmth.
8. Crew Length boot socks for men:
These crew socks have light arch support, it has strengthened heel and toe structure with the construction of cotton.
You can wear these socks with boots or any western footwear. These socks are designed especially for men to provide them comfort throughout the day. Therefore, these socks prevent you from blisters and other natural attributes.
9. Women's Lace Crew Socks: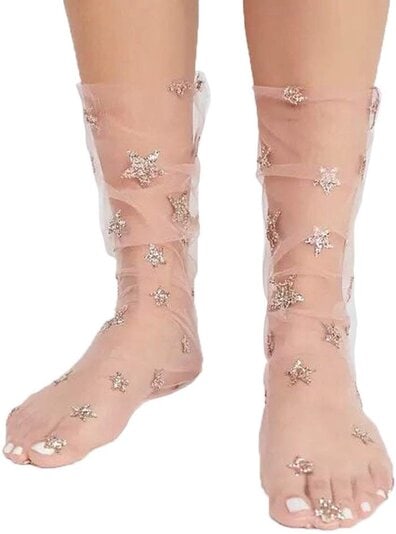 This is a funny, casual sock with 3d print. It is funky to wear with a transparent look. You can wear these socks with the best sandals to enhance your look. 
These socks are medium crew sock that is made up of Polyester. You can wear these socks on occasions such as birthday parties, night outs, dates, etc. Transparent socks are widely used for style purposes and are very trendy nowadays. Girls love to wear these types of socks with any outfit they wish. 
10. Running Hiking Crew Length Socks:
This waterproof and breathable lightweight membrane prevents external water molecules from entering the socks.
It consists of a deep heel cup style that prevents your socks from slipping into shoes or boots. These socks are made up of deodorant, anti-blister, anti-blister, Coolmax, and moisture-wicking fabric. 
The main purpose of these socks is to prevent stickiness to give a cool and comfortable feeling.
Conclusion:
Above mentioned socks are the various types of crew socks for particular occasions to wear. Crew lengths are very popular among us so it is vital to have all those types in our wardrobe. Socks give us a professional and standard look in the office and other places too. Personally, I love to wear knee-length socks with short dresses because it adds extra spice to my outfit.
These socks are trendy nowadays. They are not only worn by adults but also by kids. They protect our legs from blisters. There are also fashionable socks that are meant for those girls who are fond of fashion and style. For many of us without socks is like tea without sugar. Therefore, why not buy the above socks from your nearest store and protect your feet from natural attributes! 
Still, have doubts about which of the above socks to choose? Feel free to write your queries in the comment section below.
Image source: pinterest , Dotti , Zumiez, Amazon.com
Read Also: